Here you will find new and exciting packages, available for those who wish to take a safe, high quality, memorable tour to Egypt. Please browse through our well rounded choice of packages. After deciding which packages are of interest, you can book your tour instantly with our online reservation form or simply call us using our toll-free telephone number. If you are booking from outside the USA, please deduct $920 for international airfare.
---
Our packages can be personalized and can start any day of the week. On our custom tours you don't automatically get lumped with a group of strangers. If you don't wish to travel with a group you can go on your own, no matter how big or small your party is. This gives you the flexibility to
design your own trip
, complete with private transportation and private guide, or enjoy one of our time-tested favorite package options.
---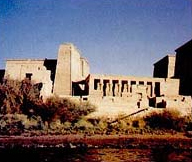 Egyptian Adventures Travel is a Land and Cruise Tour operator which is specialized in tours to Egypt and the surrounding countries. We use some of the most sophisticated and luxurious cruise ships on the Nile today!! We have three offices between the United States and Egypt and with one of them on the grounds of the famous "Gold Pyramid House". We also have numerous representatives in other countries. You can rest assured that you are dealing with a financially stable and reputable company that will provide you with the professional and quality service that you expect.
---
U. S. Department of State information
---
Travel Warning: Caution Advised
Travellers to Egypt should steer clear of demonstrations, which are occurring quite frequently at the moment due to rising food costs, and may turn violent without warning. The risk of terrorist attacks in Egypt remains high. In the past such attacks have targeted areas frequented by tourists with the resort city of Dahab in Sinai the most recent target in April 2006. Travellers should keep abreast of local news updates, remain alert and expect delays and increased security checks, especially at border crossings. Egypt's border with the Gaza Strip is closed; due to recent conflicts in the area, nearby roads and tourist sites have also been closed.
Severity: Mid-level alert
---
We support the efforts of



a not-for-profit organization established to protect and study our fragile, global natural environment through education, ecotourism and scientific research aimed at shared solutions to a peaceful sustainable future with special attention to at-risk habitat and biota in developing countries.