A first time visitor to Egypt who wants a classical experience would do well to book a Nile cruise. Of course modern airlines shuttle tourists to the southern region of Egypt, but historically the Nile cruise was really the only way to visit the temples and tombs located along this stretch of the river. It is still a popular means of visiting upper Egypt and has many advantages to other means of travel.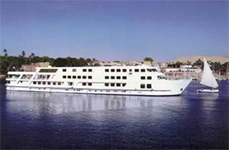 Nile cruises may very considerably, but typical Nile cruises are either three, four or seven nights. The shorter tours usually operate between Luxor and Aswan, while the longer cruises travel further north to Dendera, often offering day tours overland to more remote locations. Therefore, a fairly complete 14 day tour of Egypt might include several days around Cairo, seeing the pyramids, museums and other antiquities, a short flight to Abu Simbel in the very southern part of Egypt urrounding a seven day Nile Cruise.
The usual cruise is aboard a Nile cruiser, often referred to as a floating hotel. Indeed, the better boats have most the accommodations of a land based hotel, including small swimming pools, hot tubs, exercise rooms, nightclubs, good restaurants, stores and even small libraries. Like land hotels, meals onboard most Nile cruisers are usually buffet style and include hot and cold food along with a variety of international and local cuisine. Most all boats have good modern water filtration, which is fine for showering, but it is still recommended to drink bottled water, which the boat will have aboard.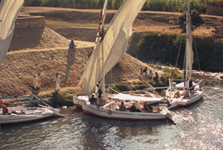 A much more adventurous style of Nile cruise, very different from the floating hotels can be arranged aboard feluccas, Egypt's traditional Nile sailboat. Most falucca trips are short, enjoyable trips of several hours, but multi-day felucca cruises can be arranged aboard larger vessels traveling between Aswan and Luxor. There is really no comparison between cruising the Nile on a floating hotel and a falucca. The accommodations on a falucca are primitive. Tourists sleep in the open on deck and the sailors double as cooks.